AN INTERVIEW WITH Rex Goh
back to previous page ... »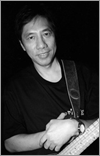 an interview with Rex Goh
Rock Guitarist and Musical Director Rex Goh moved to Australia from Singapore in 1972. His big break was joining classic 80s rock band Air Supply. He was there for the first tour of the US, supporting Rod Stewart, and there for their legendary 1980 headline tour.
Since then, he's never looked back. Savage Garden, Soul Decision, Daryl Braithwaite, Eurogliders, Renee Geyer, Grace Knight, Tommy Emmanuel and Wes Carr … the list goes on and on.
Renowned for his easy going attitude and his fabulous musicianship, Rex Goh is the one everyone calls when they need a guitarist.

---
website: www.rexgoh.com