TC Helicon Voicelive 3 - Vocal FX, Guitar FX, Multi Looper
back to previous page ... »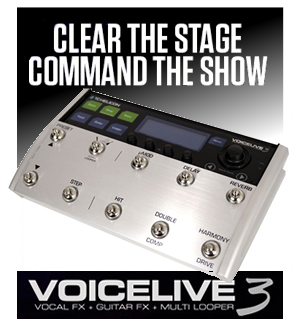 Ultimate Gets An Upgrade
Imagine the perfect sound engineer taking your vocals to awe-inspiring heights. Imagine the rich tones of a premium stomp box collection. Imagine a songwriting tool setting your creativity on fire, both when writing and performing. Now stop imagining.
With VoiceLive® 3 you get the ultimate 3-in-1 professional performance system for vocals, guitar and phrase looping – and it will rock your world!
* A complete vocal sound with next generation harmony processing, effects and tonal quality.
* TC Electronic stomp box effects, Amp Tones and dedicated stereo amp outputs to integrate fully with your guitar rig.
* Powerful 3-phrase looping lets you create and store entire songs on-the-fly.

Your Voice, Front and Center
Vocals are what we live for, and VoiceLive 3 is a true labor of love. With a mind-blowing vocal effects path more comprehensive than anything created before – featuring 11 independent effects blocks, over 180 different styles, and more than 250 factory presets available right out of the box (and more available for free download) – VoiceLive 3 represents the absolute pinnacle of singer's technology and the perfect partner for your voice.
NEW! Exciting new Harmony modes – Pedal, Fixed, and Mixed-Mode – for expanded voicing and musical possibilities.
NEW! Authentic Vocoder with voice-controlled polyphonic synth and robot modes allow you play your voice like an instrument.
Automatically and professionally produced vocal sound with enhanced Adaptive Tone™.
Improved suite of our renowned vocal effects, e.g. Doubling, Harmony, Echo, Reverb, HardTune, Flanger, Chopper, Choir, and more. Upgrades include new delay filters, new HardTune styles, better sounding doublings and even more realistic harmonies.
250+ factory presets, with onboard storage for 500 presets in total. Download and manage more presets via our free VoiceSupport app.


No-Compromise Guitar FX and Amp Tones

Our sister company is legendary guitar FX maker, TC Electronic, and by including some of the most popular sounds from their TonePrint pedals like Flashback Delay, Hall of Fame Reverb, Corona Chorus, and Vortex Flanger we've designed the Guitar section of VoiceLive 3 to rival even the most pristine pedal boards. Add to that the full gamut of great tone classics such as wah, octave, tremolo, and drive, and you've got an unbeatable guitar road kit.
TC Electronic TonePrint FX styles from Flashback Delay, Hall of Fame Reverb, Corona Chorus and others.
New Talk box, Chopper, Bass, Wah, and Drive guitar effects.
A wide choice of amp emulations from vintage British to classic American, when bringing your own amp isn't practical.
Acoustic Mode allows for quick set up of VoiceLive 3 for acoustic guitar.
Guitar chords automatically guide vocal Harmony, HardTune, Synth and Vocoder effects.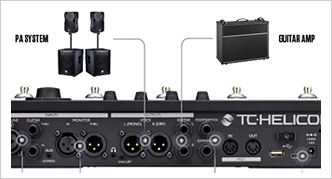 Dedicated Vocal PA and Guitar Out
What makes VoiceLive 3 stand out is the dedicated stereo vocal and stereo guitar amp outputs. Send your guitar sound directly to your favorite amp, completely independent of the vocal output going to the PA.
The killer feature is that this also works if you're looping; the stereo vocal loops go to the PA while the stereo guitar loops go separately to the amps.

Building Better Songs with Loops

VoiceLive 3's looping allows you to experiment with real-time song creation or exciting loop jams. Arrange and re-arrange backing tracks with flexible verse-chorus-bridge switching. The LoopAssist™ function helps you make tighter loops effortlessly and auto-expands loops to allow different lengths. 45 minutes of looping time and infinite overdubs let you create entire sets of songs – and store them for instant recall.
Powerful multi-track looper with intuitive control layout and infinite overdubs.
3-phrase looping with 4 selectable layering and serial techniques help you create intricate songs and on-the-spot re-arrangements.
LoopAssist™ with multi-purpose metronome and quantize for perfectly synced loops.
Auto expansion of loop length allows you to create long loops on top of short ones, and vice versa, without having to set up timing beforehand.
Loops can be stored onboard and recalled together with presets.

But Wait… There's More!

VoiceLive 3 literally has hundreds of additional features to make you stand out as a singer, guitar player and performer. And if you're upgrading from VoiceLive 2, there are dozens of new functions to discover and an army of upgrades and improvements.
Discover EVERYTHING new VoiceLive 3 has to offer by visiting the VoiceLive3 website Features Overview page.


TC Helicon Voicelive 3 - Vocal FX, Guitar FX, Multi Looper
VIDEO: Internet connection required