ISSUE #105 - Sept / Oct 2014

Welcome to the Australian Guitar Magazine CD ROM.
Each issue we bring you video interviews with Australian and International artists, sample tracks, guitar video tutorials and style studies complete with tablature and backing tracks. There's also information on some of the latest guitar gear, and we have some great new features to be added in the coming issues.
In the extras section you will find the tab and audio files that support the tutorials published in the printed magazine. Back issue videos, interviews and tutorials, can be found at www.guitarheroes.com.au
We welcome comments and feedback, follow the link at the foot of the page or visit and like our Facebook Page.
Enjoy ...

an interview with Bob Daisley - 'For Facts sake'
Steve talks to Australian bassist and lyricist Bob Daisley about his tell-all book 'For Facts Sake'.
Bob has written and performed and recorded with some of the worlds most renowned rock bands including Rainbow, Uriah Heep, Widowmaker, Blizzard of Ozz (Ozzy Osbourne), Black Sabbath, Gary Moore Band, and many more.

View Video ...»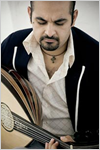 an interview with Joseph Tawaldros
Always willing to push the boundaries and challenge traditional musical forms and rhythms, Joseph's efforts have led him to many unique collaborations including with the Grigoryan brothers and John Abercrombie.
Joseph never ceases to amaze and has established himself as one the world's leading oud performers and composers. A virtuoso of amazing diversity and sensitivity, Joseph continues to appear in concert halls worldwide dazzling audiences with his brilliant technique, his passionate musicianship and his joyous style of performance.

View Video ... »

SLIDE GUITAR WITH STEVE FLACK
---
Steve presents an ongoing series covering slide guitar techniques. Inc. backing tracks and tab. This segment is a Derek Trucks style study.
Slide Guitar ...»

MASTERS OF ROCK WITH STEVE FLACK
---
Each issue Steve presents a tutorial based on the style of a "Master of Rock Guitar". Included are backing tracks and tablature.
Masters of Rock ...»


IMPROVISING WITH STEVE FLACK
---
A question often asked is "How do you improvise?".
This issue is part 4 in the Style of the song 'Spain'. Includes tab, solo & backing tracks.
Improvising ... »

Please note that audio and video on this CD is best viewed in current versions of Chrome, Safari and Firefox browsers. Video and audio content on this CD may not display in Opera or some Firefox browsers. Space does not permit us to provide alternative content for these browsers. The Audio Scrubber feature in the audio player is not supported by some versions of Internet Explorer.