AN INTERVIEW WITH DOM TURNER - THE BACKSLIDERS - PART 1
back to previous page ... »
View Part 2 ... >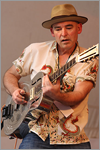 an interview with DOM TURNER - THE BACKSLIDERS - PART 1
Steve talks to blues artist Dom Turner.
Dom is best known as guitarist/vocalist, founding member and key songwriter of the iconic Australian blues group, The Backsliders. Dom's influences are many and varied – a blend of delta blues, piedmont blues, rock, dub and sounds of Asia. He is a highly regarded speaker on blues music and has guested on ABC radio programs (including guest presenting Radio National's 'Music Deli') and presented music workshops at festivals and in universities (both nationally and internationally). In 2004 Dom was voted 'Blues Songwriter of the Year' at the Australian Blues Awards.

As well as over 30 years of recording and performing blues in Australia and internationally with the Backsliders, Dom has embarked on a variety of solo and collaborative musical projects. Dom has toured as a solo artist in the USA, playing and teaching blues guitar at Augusta Blues week in West Virginia, and in 2006, touring Mexico with US blues greats, Del Ray and Steve James. His trademark 'slide' guitar sound can be heard on myriad session recordings and his songs have featured on the ABC TV programme 'Seachange', as well as the soundtrack to Tim Winton's best-selling novel, 'Dirt Music'. Most recently, in addition to touring and recoding with Backsliders, Dom has been working on a cross-cultural music recording with Vietnamese stringed instrument master, 'Kim Sinh'.

Dom Turner was the artist in residence on ABC radio 702 Morning's program in July 2009.
As well as Backsliders,  Dom records and plays with a number of side-projects currently including, Dom Turner and Supro, Dom Turner and Ian Collard, Kim Sinh and Dom Turner and Angry Tradesmen.
Dom also performs as part of the Australian Muddy Waters tribute and the Robert Johnson tribute concerts. Dom occasionally performs solo or in with harmonica player Alex Terry (in South East Asia).

---
website: www.domturner.com.au