ISSUE #107 - JAN / FEB 2015

Welcome to the Australian Guitar Magazine CD ROM.
Each issue we bring you video interviews with Australian and International artists, sample tracks, guitar video tutorials and style studies complete with tablature and backing tracks. There's also information on some of the latest guitar gear, and we have some great new features to be added in the coming issues.
In the extras section you will find the tab and audio files that support the tutorials published in the printed magazine. Back issue videos, interviews and tutorials, can be found at www.guitarheroes.com.au
We welcome comments and feedback, follow the link at the foot of the page or visit and like our Facebook Page.
Enjoy ...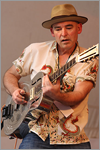 an interview with DOM TURNER - THE BACKSLIDERS
Steve talks to bluesguitarist / vocalist Dom Turner.
Dom is best known as the founding member and key songwriter of the iconic Australian blues group The Backsliders. Dom's influences are many and varied – a blend of delta blues, piedmont blues, rock, dub and sounds of Asia.
As well as over 30 years of recording and performing blues in Australia and internationally with the Backsliders, Dom has embarked on a variety of solo and collaborative musical projects.
View Video ...»


an interview with DAVID & LYN HINDS
The Bounty Hunters' David and Lyn Hinds demonstrate their new "Sonic" signature models guitar and bass guitar. Check out the cool pick-up wiring in David's Signature Model. Bounty Hunters have been established since 2005 playing their own style of gutsy original blues inspired Rock and Roll and have produced two albums of original music, the first a self titled album and more recently 'Rise', which was released early this year and is available in Sanity and JB HiFi stores.
View Video ... »

SLIDE GUITAR WITH STEVE FLACK
---
Steve presents an ongoing series covering slide guitar techniques. Inc. backing tracks and tab. This segment is a Dom Turner style study.
Slide Guitar ...»

MASTERS OF ROCK WITH STEVE FLACK
---
Each issue Steve presents a tutorial based on the style of a "Master of Rock Guitar". Included are backing tracks and tablature.
Masters of Rock ...»


IMPROVISING WITH STEVE FLACK
---
A question often asked is "How do you improvise?".
This issue is part 2 in the Style of the song 'I've Got talent'. Includes tab, solo & backing tracks.
Improvising ... »

Please note that audio and video on this CD is best viewed in current versions of Chrome, Safari and Firefox browsers. Video and audio content on this CD may not display in Opera or some Firefox browsers. Space does not permit us to provide alternative content for these browsers. The Audio Scrubber feature in the audio player is not supported by some versions of Internet Explorer.