An Interview With LUKE O'SHEA - PT 1
back to previous page ... »
View Part 2 ... >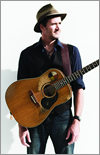 An Interview With LUKE O'SHEa - PT 1
(Photo Credit: Toby Burrows)

Luke O'Shea has grown into being one of Australia's most respected country singer songwriters. Renowned for his storytelling and powerful live shows, multi award winner Luke O'Shea, along with his band Medicine Wheel, have a unique, yet classic Australian sound.  As a guitarist/songwriter he draws inspiration from the unique and everyday characters he meets.
Spending his twenties eating up the world in what Luke describes as his '"glorious wasted years", Luke absorbed universal themes and personal stories that resonate deep within all human DNA.
After many years and countless miles Luke O'Shea is now an enthralling live performer and award winning Australian storyteller winning a Golden Guitar at Tamworth in 2015.
In January 2016, fifteen years after the release of his debut set 'No Day Like Today', Luke will release a new album on Compass Bros / Universal.
---
website:
www.lukeoshea.com