Ernie Ball Slinky Flatwound Electric Bass Strings
2015 - The future of flatwounds has changed forever....
Flat Feel. Round Sound.
Famously Slinky.

The wait is nearly over. Our first shipment of the revolutionary Ernie Ball Slinky Flatwound bass strings arrived in Australia 1st week of July.
What's so "revolutionary" about Slinky Flatwounds?

How about being able to keep the smooth feel and deep fundamental that bass players love about flatwound strings, but at the same time get access to the wider tone output that they can normally only get by switching to roundwound strings
Ernie Ball Slinky Flatwound Bass Strings combine the smooth feel of traditional flats and the modern power of Cobalts.
They feature a super bright Cobalt ribbon wrap, Cobalt underwraps and an optimal hex-core to wrap ratio. Ernie Ball Slinky Flatwound Bass strings are the first flats that actually feel like a flat and sound like a round.

Slinky Flatwounds have been available domestically in the US for a couple of months now, which gives us the benefit of some great feedback prior to their arrival:
"My fingers say flat, my ears say round, my frets say thank you."
- TONY LEVIN
"A successful hybrid of old and new-school characteristics that sounds great on vintage-style passive axes, or modern machines with active electronics."
- ED FRIEDLAND, BASS PLAYER MAGAZINE
"I think these strings are the best choice for recording and live performance as they have the fundamentals of traditional flats, but the definition of round wound strings."
- JUAN ALDERETE, MARS VOLTA
"The perfect balance of deep bottom, punchy mids, a smooth top-end...The quest for the perfect flatwound string is finally over."
- MATT MANGANO, ZAC BROWN BAND
"I got 'em. I put 'em on. I played. I think they sound great and feel even better."
- MIKE HERRERA, MXPX
Below is a comparison of the spectrum of Regular Flatwounds Vs Slinky Flatwounds, plus a list of the gauges that will are available from July 1.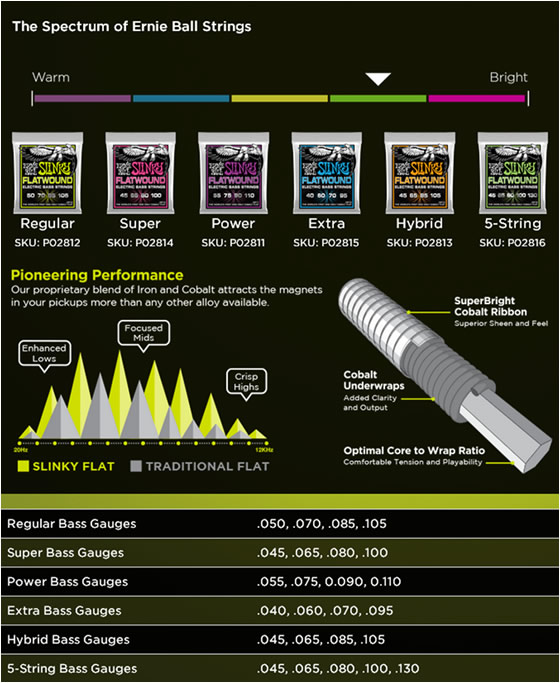 Ernie Ball Slinky Flatwound Electric Bass Strings