HiWatt T Series Amplifiers
back to previous page ... »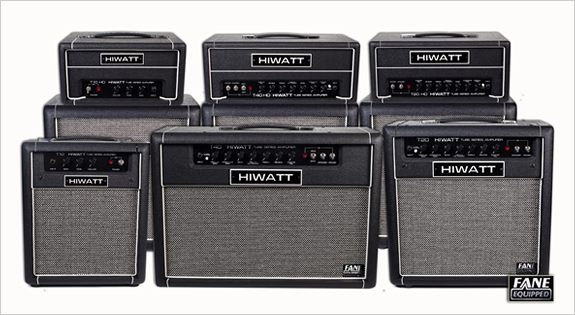 HiWatt T10
Originally designed as an entry-level introduction to the wonderful world of the Hiwatt valve sound, through the success of the first amp, the T20, the range is beginning to generate a following in its own right. So much so, in fact, that Hiwatt have given the T20 a bigger and smaller brother. The T series now starts with the T10 combo and T10HD head - a 5w amp, with a 10" speaker in the combo. You may have your own ideas on how loud 5w can go, but you may well be wrong (Careful - it bites!). A single 12AX7 nestles in the preamp, and the output is provided with an EL84
¼" input jack
Volume, tone and gain controls

External speaker jack (on the T10HD head only)

Fane speaker
HiWatt T20
The amps that launched the Hiwatt Tube series is the T20. It's compact, loud when you need it to be, spades of tone and really sensibly priced - no wonder it's so popular. The combo comes with a single 12" Fane speaker and the facia hints at the versatility of the amp. Three band EQ and with the middle control having a push/pull frequency shift feature. Footswitch jack for reverb on/off and a channel switch.
¼" input jack
3 band EQ: bass, middle, treble push/pull frequency shift ...on middle
2 band master volume
Heavy duty toggle switches for on/off and standby
Preamp : 2 x 12AX7 and 1 x 12AU7
Output stage: 2 x EL84
External speaker jack on the T20HD head
Fane 12" speaker
HiWatt T40
The T40 is the Tube series' equivalent of Hiwatt's Classic A Range Stage/Studio 40w head and combo. 20w for the studio, so you can drive it to get that singing, cranked Hiwatt tone whilst leaving the plasterwork intact, and switch up to 40w for the stage. To all intents and purposes, a T20 with the ability to double the output power. Clever.
¼" input jack
3 band EQ: bass, middle, treble push/pull frequency shift ...on middle
2 band master volume
Heavy duty toggle switches for on/off, standby and ...20w/40w switching
Preamp : 2 x 12AX7 and 1 x 12AU7
Output stage: 4 x EL84
External speaker jack on the T40HD head
2x 12" fane speakers
HiWatt T Series Amplifiers
website:

www.cmcmusic.com.au

where to get it:

Find a Dealer

RRP:

T10 head

$295

T10 combo
$450
T20 head
$550
T20 combo
$695
T40 head

$750

T40 combo
$999
HG112 single 12" cab
$350
HG212 double 12" cab
$495