An Interview With 8 Ball Aitken - PT 1
back to previous page ... »
View Part 2 ... >
Watch the new video clip from 8 Ball Aitken below.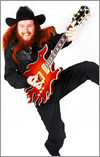 An Interview With 8 Ball Aitken - PT 1
8 Ball Aitken has been described as the redneck preacher at the shotgun wedding between country and blues.
It doesn't matter which part of the family you're from -- what does matter is the funky foot-stomping hullaballoo at the all-night party afterwards. Hailing from Far North Queensland, he grew up as a teenager in a run-down tobacco shed, making a living picking tropical fruits by day and picking guitars by night. 8 Ball's first break came when he was hired to play nightly at the infamous Johno's  Blues Bar in Cairns.
Since the release of his first album 'Behind The 8 Ball' in 2003, 8 Ball has toured to date across every state and territory of Australia. He has also built a strong international profile, having played festival and club shows throughout Europe, Canada & Japan. He's toured in Japan four times, where he headlined the popular Rokko Sun Music Festival. He has also performed extensively in Germany, Poland, Sweden, Denmark, and Norway and the UK.
8 Ball Aitken is authentic -- a real-deal character who rattles the roof, stomps the planks, and gets his audiences whooping and hollering along in a frenzy of pure exuberance. He started work as a farm labourer aged fifteen, doing back-breaking hard work on the mango and banana plantations of the Atherton Tablelands, a man's work for a boy's pay.  A life-changing conversation with an Aboriginal elder, who told him he should pursue a career in music, convinced 8 Ball to pack his bags, grab his guitar, and leave the farm to meet his destiny.
8 Ball's third album 'Rebel With A Cause' had several award wins including a Southern Star Award and two Q Song Awards.
---
website:
www.8ballaitken.com/