ISSUE #114 - MARCH / APRIL 2016
Welcome to the Australian Guitar Magazine CD Online
In each issue we bring you video interviews with Australian and International artists, sample tracks, guitar video tutorials and style studies complete with tablature and backing tracks. There's also information on some of the latest guitar gear, and we have some great new features to be added in the coming issues.
If you have not already, check out the new tutorial segment "Unplugged by Arrangement" where Steve Flack demonstrates one of his unacompanied arangements for guitar.
In the extras section you will find the tab and audio files that support the tutorials published in the printed magazine. Back issue videos, interviews and tutorials, can be found at www.guitarheroes.com.au
We welcome comments and feedback, follow the link at the foot of the page or visit and like our Facebook Page.
Enjoy ...

an interview with HARRY BRUS - PT1
In this two part interview, Steve Flack talks to renowned Australian bass player Harry Brus who takes us on a journey through a career that spans almost five decades and saw him perform with many of Australia's best musicians and artists.

View Video ...»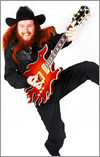 An Interview With 8 Ball Aitken
8 Ball Aitken has been described as the redneck preacher at the shotgun wedding between country and blues. It doesn't matter which part of the family you're from -- what does matter is the funky foot-stomping hullaballoo at the all-night party afterwards. Hailing from Far North Queensland, he grew up as a teenager in a run-down tobacco shed, making a living picking tropical fruits by day and picking guitars by night. 8 Ball's first break came when he was hired to play nightly at the infamous Johno's  Blues Bar in Cairns. View Video ... »

SLIDE GUITAR WITH STEVE FLACK
---
Steve presents an ongoing series covering slide guitar techniques. Inc. backing tracks and tab. This segment is titled 'Getting Started'.
Slide Guitar ...»

MASTERS OF ROCK WITH STEVE FLACK
---
Each issue Steve presents a tutorial based on the style of a "Master of Rock Guitar". Included are backing tracks and tablature.
Masters of Rock ...»


IMPROVISING WITH STEVE FLACK
---
A question often asked is "How do you improvise?".
This issue is part 1 in the style of the song 'All Blues'. Includes tab, solo & backing tracks.
Improvising ... »