carlos High-End Acoustic Pick-Ups
back to previous page ... »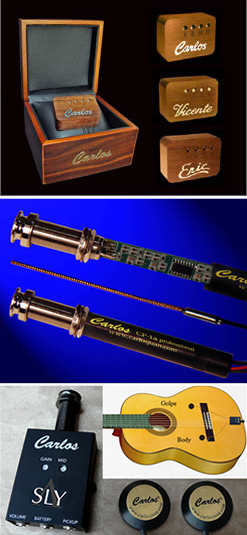 If you are serious about your sound you should be using a Carlos pick-up ...
Carlos pickups are handmade in Germany with painstaking attention to detail, each dated, signed and serial numbered and recognised by many of the worlds finest guitar players as the world's best acoustic guitar amplification.
Guitarre Exclusive. 4-2001: "Pushing the envelope ... far ahead of its time"

David Knopfler: "As both an Artist and Artisan there are probably only a small handful of A listers in the field of acoustic amplification, and Carlos Juan is probably the first name that would be quoted on that list by the A list of professional acoustic guitarists."
John McLaughlin: "Carlos and I share a passion for music, but a big passion for guitar, and he is continuously innovating products for guitarists. His life, like mine, is dedicated to music in general and the guitar in particular. We have much in common."
Oscar Castro Neves: "Carlos Juan understands the sound of guitar from A to Z."
Pat Metheny: "It saved my life, it is the best thing that has ever happened."

Gary Moore: ""It's great (CP-1A VIP). None of that typical piezo effect."

Paulo Bellinati: "It was incredible. The sound of a pickup (CP-1A VIP) was better then a Neumann mic in front of the guitar"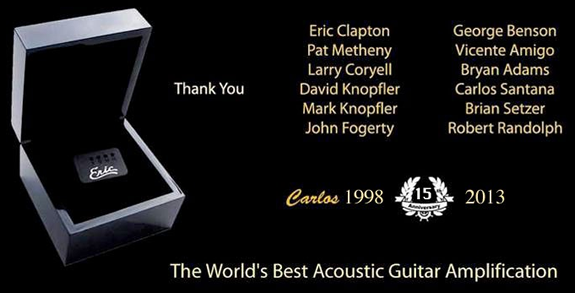 carlos High-End Acoustic Pick-Ups