Jet City JCA24sv 2 x 12 cabinet
back to previous page ... »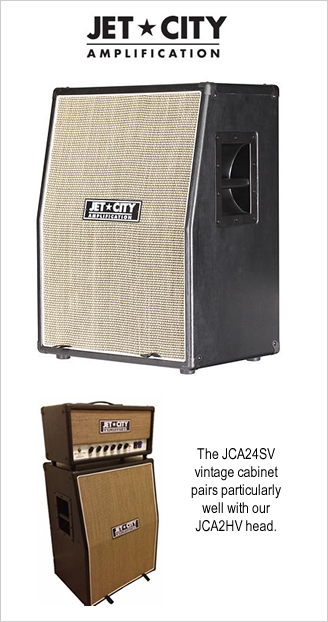 Features Celestion 30 Vintage Speakers.​
Our top of the line 2×12″ cabinet has several features for the guitar tone aficionado. Like all our cabinets, we use void-free, fine-ply, 15mm plywood. 24SV is a vertical cabinet – the two 12″ are stacked on top of each other, and slightly offset. Plus the top speaker is on a bit of a slant. Some advantages to this design are a small stage footprint, it projects well to the player on stage, and it raises the head to a level which is easier to adjust. The cabinet design is a solid, fixed-back so there's plenty of low end and projection.
With a vintage rock tone in mind, we turned to Celestion and included their ever-popular Vintage 30.
JCA24SV is an excellent choice to run with a wide range of amp heads – but we think it pairs particularly well with our JCA20HV.
Tech Specs:
Inputs: 1×1/4″ at 16 ohm
Thru: 1×1/4″ Thru speaker output
Power handling: 120 watts RMS mono
Cabinetry:Multi-ply, void-free hardwood
Drivers: 2×12" Celestion Vintage 30
DIMS: 20w x 28h x 10d
Weight: 40.2 lbs net
Jet City JCA20HFlex Guitar Amplifier