Jettenuator by jet city amplification
back to previous page ... »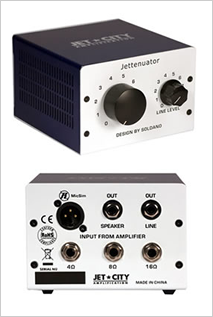 JET CITY AMPLIFICATION launches the Jettenuator - Designed by Michael Soldano
Designed by Michael Soldano, JCA's new Jettenuator can attenuate a tube amplifier's output - up to 100 watts - down to a more manageable output volume. "Jettenuator was developed as a tool to allow the guitarist to achieve the tone of a cranked-up tube amp, at a controlled volume level" said Douglas White, Jet City's manager of Product Development. "That tone can be output to a speaker cabinet, line-level output, or via our MicSim circuit to a mixing console in either live or studio use. In addition to an attenuator, you might think of it as a direct box for a tube amp".
The Line output can be used to supply a separate power amplifier and includes its own level control. The Jettenuator also operates at 4, 8, or 16 ohms for great flexibility in set-up.
At a RRP of $249 , the Jettenuator is built with heavy-gauge steel, and hand-wired using high-quality components.
Jettenuator by jet city amplification