Jet City JCA20HFlex Guitar Amplifier
back to previous page ... »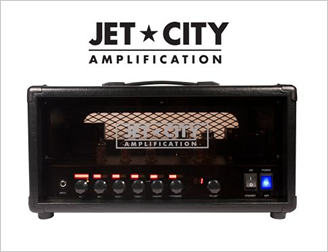 A fully-programmable tube guitar amplifier.
Using technology engineered by Gary Lee of BackLine Engineering, all front-panel rotary controls function as normally expected, yet all settings can be saved in one of 30 user presets, and recalled via footswitch or MIDI. The Flex topology is noninvasive to the amplifier's all-tube tone generation; only the potentiometers are replaced and controlled by new technology.
The 20HFlex includes 3 Soldano preamp voices; Vintage, Crunch, and Overdrive, 3-band EQ, master volume, and effects loop, with all setting programmable.
"Mike Soldano and I had been exploring some concepts very similar to his SOLDANO X-99 programmable preamp, when we met Gary from BackLine" said Douglas White, Jet City's manager of Product Development. "Gary had some very clever technology which he had developed for use in his own amplifiers, so teaming up was natural for both parties. We were able to develop an amp with all the tube alchemy Mike is known for, controlled by Gary's technology wizardry. It turned into a very useful amp for the gigging guitarist".
At a RRP of $899, the JCA20HFlex is built with Jet City's highly-regarded quality, and delivers the same tonal quality as their most-popular amplifier.
Jet City JCA20HFlex Guitar Amplifier